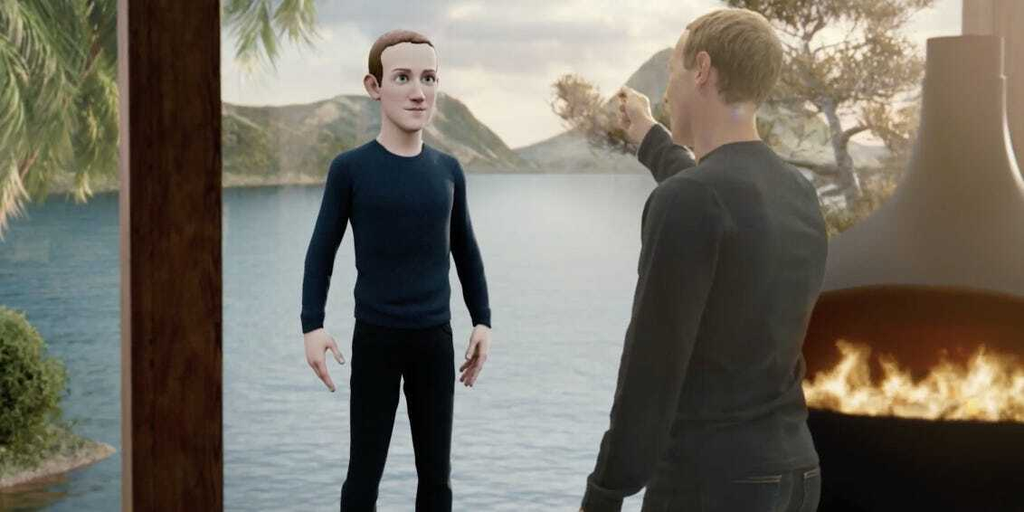 Reports of the demise of Meta's metaverse plans have been greatly exaggerated—at least according to an executive from the Facebook-owning social media giant whose rebrand ignited the buzzword in 2021.
At a press event hosted by Meta today in New York City to announce the company's new AI Sandbox generative tools for advertisers, Meta's Head of Global Business Group Nicola Mendelsohn said that the company is still "really interested" in the metaverse, and that CEO Mark Zuckerberg has been "very clear" about that.
"There's been a thing out there that we aren't interested in the metaverse anymore. We are really interested in the metaverse," Mendelsohn told attendees. "But we're also really clear that this whole thing is going to be five, 10 years before it really realizes the vision of what we're talking about."
Mendelsohn's comments serve as a rebuttal to growing speculation around Meta Platforms' growing embrace of artificial intelligence in recent months, which follows a period in which the company—which rebranded from Facebook, Inc. in 2021—couldn't stop talking about its plans for the metaverse.
Broader hype around the concept of an immersive, interactive future internet exploded after Meta's announcement and rebranding, but then quickly faded. As generative AI tools dominate headlines, some analysts and critics have suggested that Meta is moving on from the metaverse towards the latest buzzy tech trend.
Mendelsohn's stated stance comes despite Meta's metaverse-focused Reality Labs losing $3.9 billion in Q1 2023—a $1 billion more loss than the first quarter in 2022. 
Meta believes generative AI will be used by creators and brands to build the eventual metaverse, which is tied in part to the company's Quest virtual reality headsets.
The firm's newly launched ad software suite—AI Sandbox—leverages generative AI to create text for ad copy aimed at different demographics, automatically crop photos and videos, and turn text prompts into background images for ads on Facebook and Instagram. Meta CTO Andrew Bosworth first previewed the incoming tools in March.
In the future, however, Meta's generative AI tech may be used to build 3D spaces instead.
"Say you're a company and you want to build a world in [the metaverse]. At the moment, it's quite clunky to be able to do that," Mendelsohn said. "But in the future, with utilizing things like generative AI and machine learning, you will be able to say, 'I want to build a room,' and there will be lots that will happen as a result of the tools."
"AI will help us develop the metaverse more effectively," added John Hegeman, VP of Monetization at Meta, "and the metaverse will be another great opportunity to create value for folks with AI."
In March, 3D world-building platform Oncyber launched an AI-powered tool called Magic Composer that lets users customize their digital environments via text commands powered by OpenAI's ChatGPT.
While Mendelsohn says that Meta's full vision for the metaverse is still years away, fulfilling those plans could be challenged by Apple's expected entrance into metaverse hardware, with its mixed reality headset widely expected to be announced soon.
Stay on top of crypto news, get daily updates in your inbox.
Credit: Source link