The pressure on American digital assets exchange giant Coinbase is mounting as regulators intensify their war on Bitcoin and crypto.
The U.S. crypto exchange will cease issuing Bitcoin-backed loans through its Coinbase Borrow service as of May 10.
In a statement on May 3, the company confirmed that the service, which allows users to borrow against Bitcoin, would no longer be available.
"We regularly evaluate our products to ensure we're prioritizing the offerings that our customers care about most," it said.
Coinbase Borrow provides loans of as much as $1 million against BTC collateral but only in certain U.S. states, according to Bloomberg.
According to its website, Coinbase customers can borrow up to 40% of the value of Bitcoin in their accounts. Furthermore, the loans have an annual interest rate of 8.7%.
Coinbase App Download Decline
The firm did not clarify whether the termination of the loan service was due to regulatory pressure. However, Coinbase has been in the firing line recently following a Wells notice issued by the Securities and Exchange Commission in March.
According to Apptopia, a research firm that tracks app usage metrics, the number of people downloading the Coinbase app continues to decline.
The data paints a bearish picture for the company, according to Apptopia VP of Research, Tom Grant.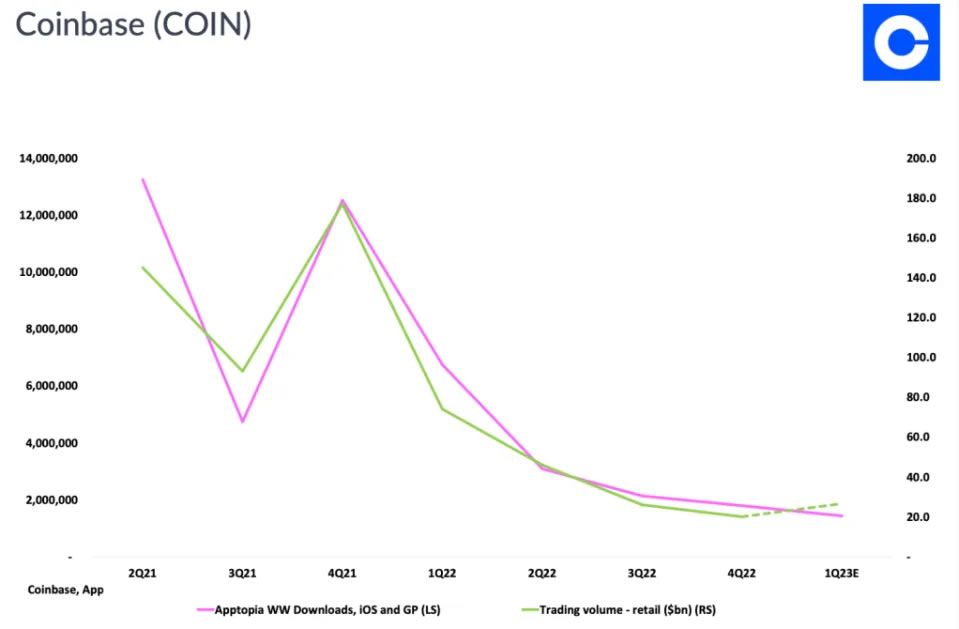 Furthermore, app usage dropped off significantly in March as casual and power users spent less time using the app, according to reports.
Coinbase was in hot water again this week when executives were accused of insider trading and dumping millions in stock to avoid losses before an earnings report was released.
Additionally, centralized exchange (CEX) volumes declined by almost 50% in April, according to Kaiko. April has been the lowest so far this year in terms of CEX volumes, with March being the highest.
COIN Prices Retreat
On May 4, the company is due to release its quarterly earnings report. Analysts expect Coinbase to report a first-quarter net loss of $329 million, or $1.38 per share.
Furthermore, its stock prices have taken a beating over the past couple of weeks.
Since mid-April, COIN prices have slumped 30%, and they continued that decline this week. The stock fell 5.5% on the day on May 3 to end at $48.88 in after-hours trading, according to MarketWatch.
The stock is currently down more than 40% from its 2023 high of $84 on March 21 as regulatory pressure intensifies. By comparison, crypto markets have retreated just 7.5% from their 2023 high.
Disclaimer
All the information contained on our website is published in good faith and for general information purposes only. Any action the reader takes upon the information found on our website is strictly at their own risk.

Credit: Source link